Report using completely bespoke data visualisations with
Ecometrica Business Intelligence Software.
Ecometrica Business Intelligence Software
The unrivalled power and flexibility of our Business Intelligence module can bring out data, charts and visualisations that you didn't know were possible. The opportunities are endless.
A FLEXIBLE, ON-DEMAND SOFTWARE PLATFORM
As standard, all Ecometrica modules come with our advanced Analytics that allows you to compare sites, get an overview of year-on-year changes and manage ad-hoc reporting requirements for GHG emissions, water and waste.
With our Business Intelligence module, you can take your reporting one step further. Launched in Summer 2017, Business Intelligence provides an advanced enterprise data interrogation and visualization system of your sustainability metrics via beautiful, dynamic, easy to understand charts and graphs, including key features that allow you to:
Track and analyse results for multiple types of sustainability metrics, beyond traditional GHG, Energy, Water and Waste totals, for instance charitable giving or CSR data
Chart multiple data points across absolute and intensity data (for example 'tCO2e per FTE' or 'tCO2e per square metre office space') to identify trends, anomalies and outliers
Make real time year-on-year comparisons in activity, emissions or performance across any subset of the data stored in the Ecometrica Platform
Choose form over 25 visualisation options
Set thresholds or targets at site, country or group level and graph actual performance including managing performance against targets and Science Based Targets
Provide graphs and dashboards filtered by user allowing new charts etc to be rolled out quickly and easily to all users of the Business Intelligence module
Report for specific use cases, such as Electricity (MWh reporting), Water and Gas, CRC, ESOS, ISO14001, ISO50001, Year end and quarterly reporting
Display and chart half hour electricity meter data across countries, locations, or divisions
Using Business Intelligence for CSR Data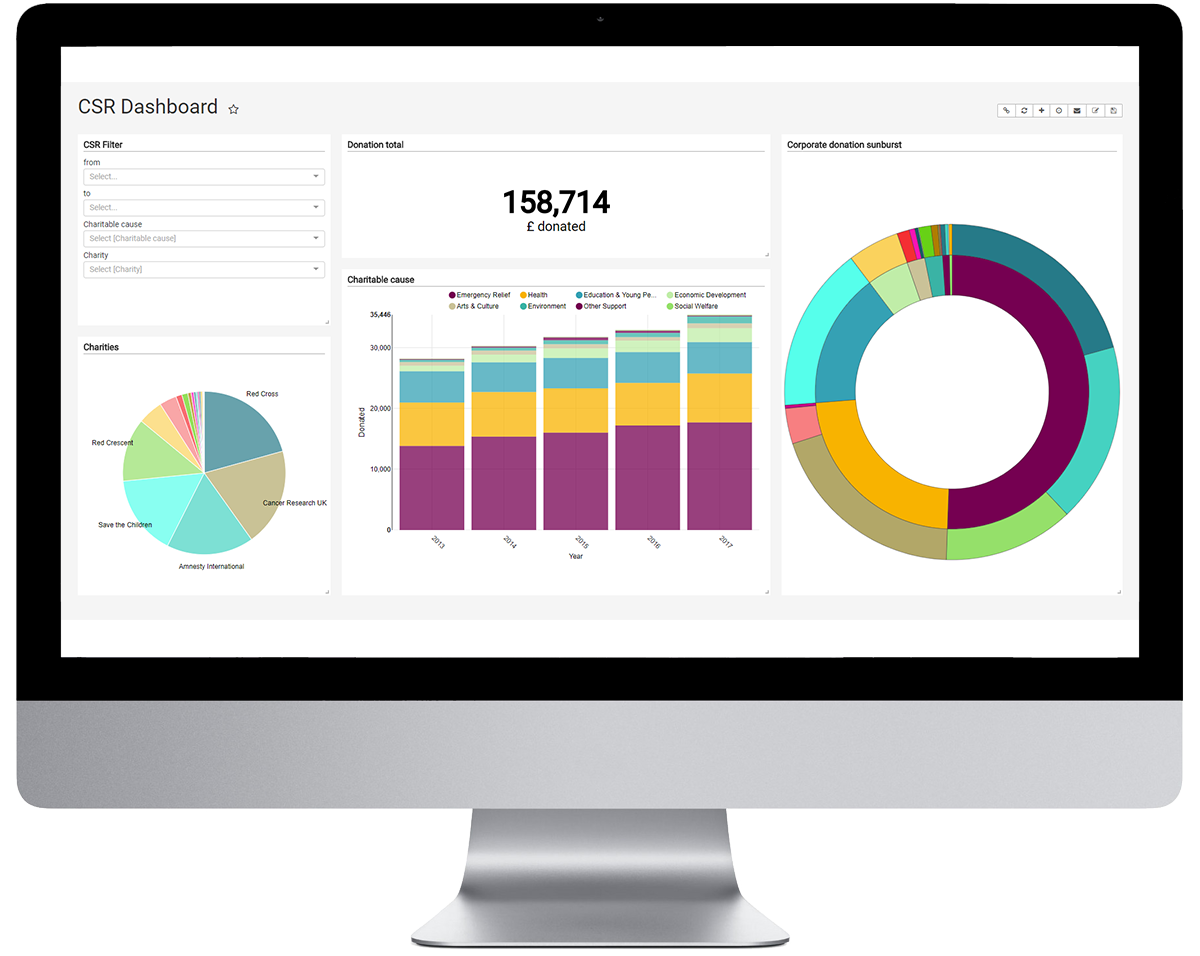 Ecometrica's Business Intelligence module allows for complete flexibility in data collection. Your CSR data can be tracked directly alongside your environmental performance, across all your sites and locations, to give a full picture of your company's sustainability record. Utilising KPIs allows for identification of under performing locations, and lessons learnt from high performing locations.
Paired with our free-form sustainability questions, with options for drop-downs, tick boxes, and numerical and text collection, Business Intelligence is a powerful analytical tool for quantifying your data. Below are just a small sample of questions we have created for clients, including measuring community investment in line with the London Benchmark Group (LBG). So whether you want to just monitor CSR performance, or drive improvements, Ecometrica's Business Intelligence module allows for quick data interrogation and visualisation.
Corporate donations
Gifts-in-kind
Employee volunteering
Supply chain engagement
Stakeholder engagement
Publication and thought leadership output
Event speakers and sponsorship