Report to SECR using Ecometrica's industry leading software. Quick set up, instant calculations, SECR compliant report with our SECR Reporting Software.
SECR Reporting Software
Ecometrica's SECR Reporting Software is fully compliant with the new Streamlined Energy and Carbon Reporting (SECR) requirements. Maintain control of your data and receive robust SECR figures ready for your annual reporting.
Based on the award-winning Ecometrica Platform, Ecometrica's audit ready SECR Reporting Software allows you to easily collect, calculate, and report your energy use and carbon emissions in compliance with the new requirements. 
Ecometrica has been providing sustainability reporting solutions for over 10 years to some of the world's largest companies. The SECR tool provides all of Ecometrica's experience in an easy to use solution for SECR compliance.
For more information and to get started reporting to SECR please get in touch.
Domestic UK only, including UK offshore area:
from £1,750 +VAT
Pricing shown is for non-listed organisations with less than 25 sites reporting UK emissions only. For pricing for larger organisations or for activities outside the UK please get in touch using the form below.
What is SECR?
The new SECR regulations are replacing the Carbon Reduction Commitment (CRC) scheme from 1st April 2019 in an attempt to simplify reporting requirements while bringing almost 8,000 more businesses into the UK's mandatory carbon reporting. The reporting requirement of energy and carbon for all large organisations in the UK (except for some exemptions, see below) is in line with the Taskforce on Climate-related Financial Disclosures (TCFD) recommendations. 
SECR aims to: 
increase awareness around energy costs within organisations

level the reporting burden between quoted and unquoted organisations

provide organisations with the right data to inform energy efficiency measures and opportunities to reduce their impact on climate change

to provide greater transparency for investors and other stakeholders. 
Who has to report under SECR, and where?
For financial years starting on or after 1st April 2019, the new Streamlined Energy and Carbon Reporting (SECR) regulations will affect:
Quoted companies;

Large* unquoted companies;

Large* Limited Liability Partnerships (LLP)
Organisations exempt from the full SECR disclosure include those that can confirm they have used 40,000 kWh of energy or less over the reporting period, where the directors consider the disclosure of the energy and carbon information would be seriously prejudicial  to the interests of the organisation, and where it is not practical to obtain the information requested in the disclosure.
Companies in scope of the legislation will need to include their energy and carbon information in their Directors' Report as part of their annual filing obligations. Full SECR reporting guidance is published in full by the UK Government's Department for Business, Energy and Industrial Strategy (BEIS). 
*Large companies are defined by the Companies Act 2006 as those which have two or more of the following criteria for the reporting period:
An annual turnover greater than £36m
An annual balance sheet greater than £18m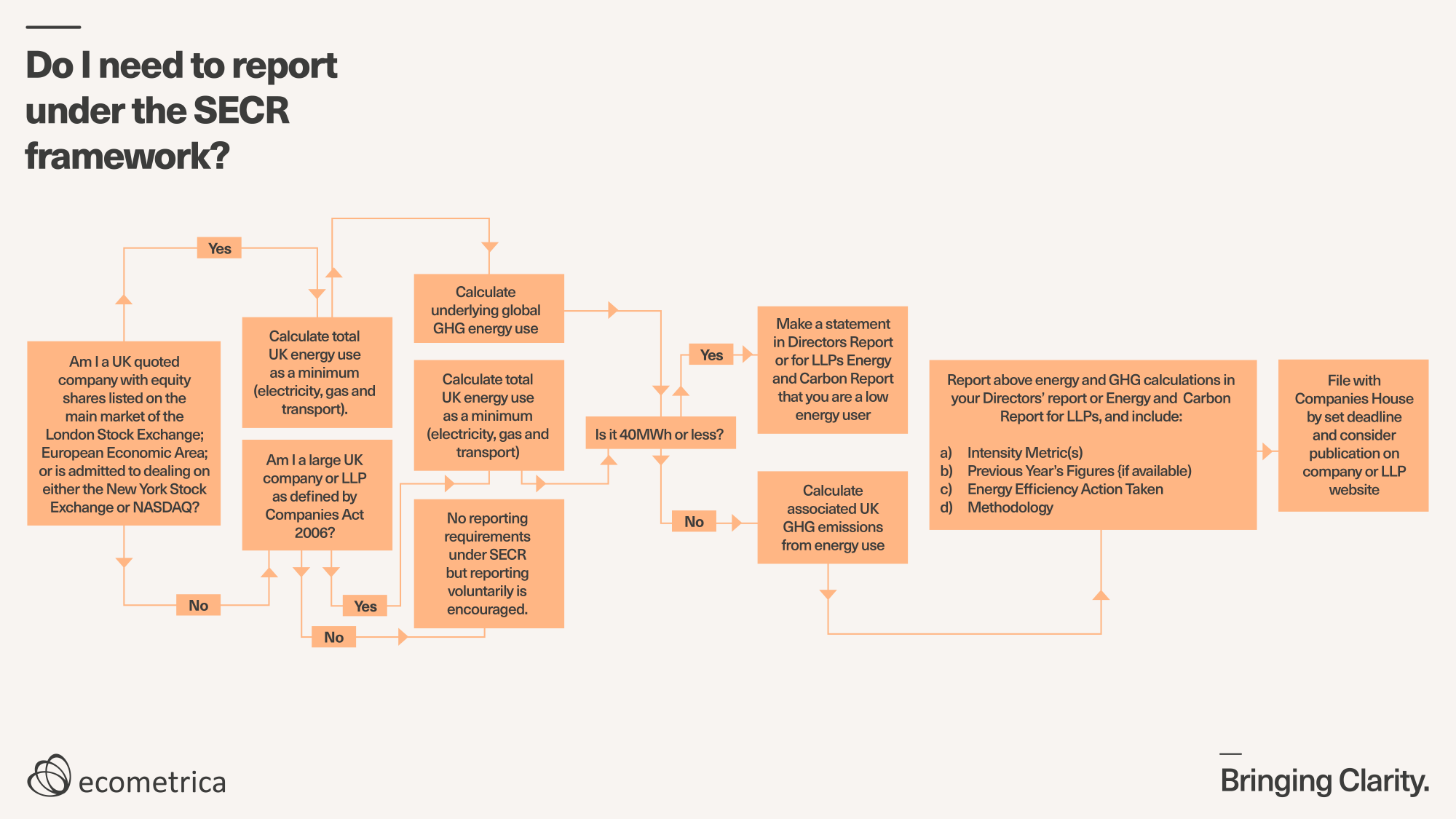 What needs to be reported?
Apart from an increase in the number of organisations that are required to report compared to the outgoing Mandatory Greenhouse Gas requirements, SECR includes both carbon and energy reporting. There are different reporting requirements whether you are reporting as a quoted company, or either as large unquoted company or LLP.
Quoted companies
Annual greenhouse gas emissions from activities for which the company is responsible including combustion of fuel and operation of any facility; and the annual emissions from the purchase of electricity, heat, steam or cooling by the company for its own use
Underlying global energy use
Previous year's figures for energy use and greenhouse gas emissions
At least one intensity ratio
Energy efficiency action taken
Methodology used
Large unquoted companies and LLPs
UK energy use (as a minimum gas, electricity and transport, including UK offshore area)
Associated greenhouse gas emissions
Previous year's figures for energy use and greenhouse gas emissions
At least one intensity ratio
Energy efficiency action taken
Methodology used
How can Ecometrica help?
Based on our award-winning Sustainability Reporting Software, the SECR Reporting Software allows companies to easily collect, calculate, and report to the new requirements. If you're one of the approximately 12,000 companies caught under the new regulations use Ecometrica's SECR compliance tool, which offers the following advantages: 
Easy to use user interface
Use either primary data, spend data, or published assumptions
Instant calculations and reporting
Multiple users can work at the same time
Fully SECR compliant
Transparent calculations and data processing
Secure storage for your data and associated files
Audit ready
Submit your interest in Ecometrica's SECR Reporting Software using the form below.