CDP's voluntary disclosure schemes are amongst the most notable and credible sustainability reporting initiatives, which is why Ecometrica has been a CDP Gold Software Partner since 2013. Working with a specialist partner to improve your CDP disclosure will be even more important in 2016, as the CDP's scoring methodology has undergone a series of updates.
Over the last two years, we've helped a number of our customers to optimise their CDP Climate Change disclosures, and have seen some great success – improving scores by an average of 23 points between 2014 and 2015. The graph below shows our key customers' score improvements between 2013 and 2015 – clicking on it will reveal a larger version.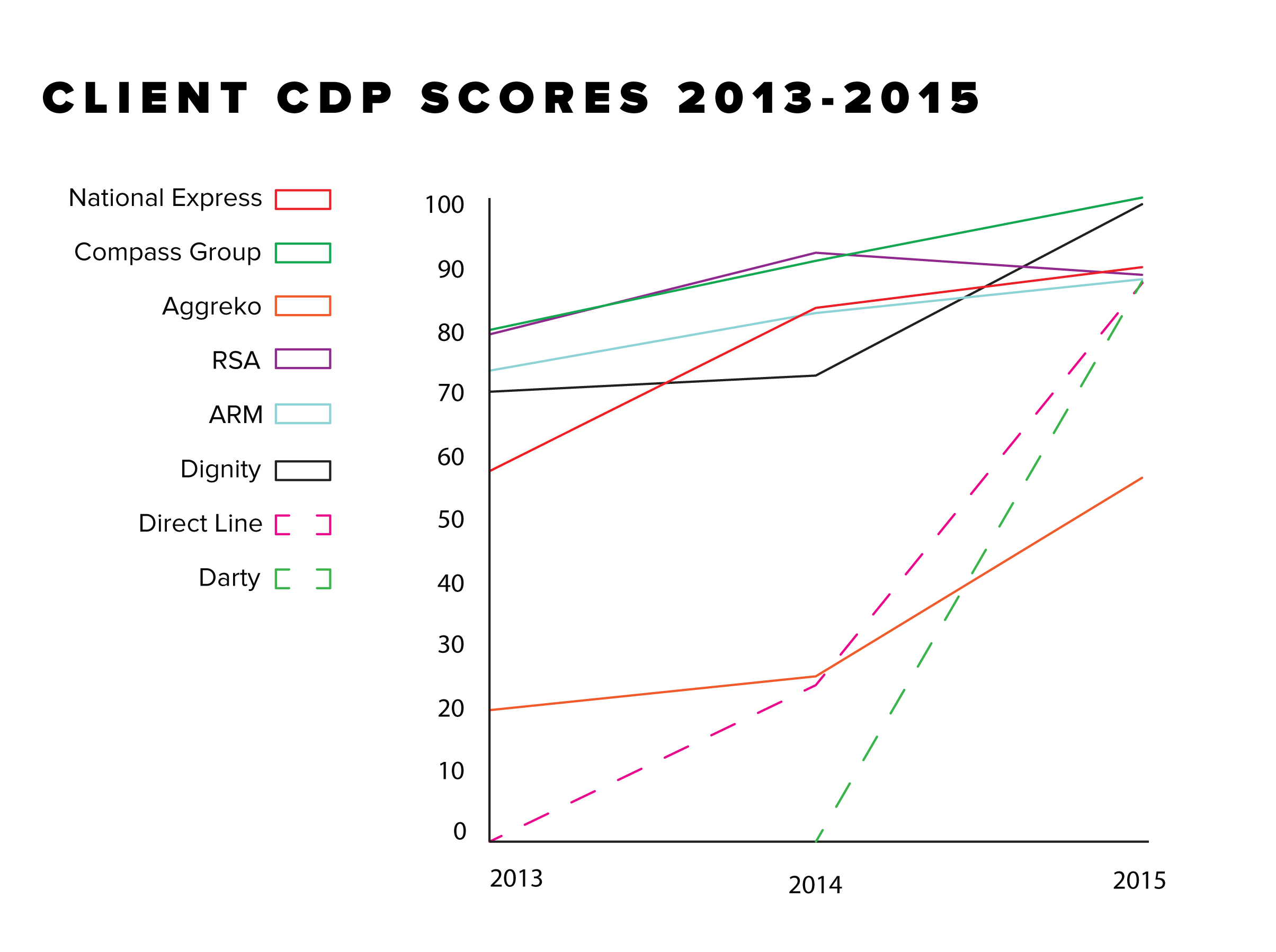 Click on the image for a larger version.
Success Story: Direct Line

Direct Line Insurance Group reported to the CDP Climate Change programme for the first time in 2014. With the assistance of Ecometrica's Score Optimisation Service for their 2015 submission, the Group won "Best year on year change in performance" category amongst FTSE 350 companies.

Ecometrica's support enabled Direct Line to present their energy management and climate change reporting and policy in the best possible light.

From our offices in both Europe and North America, we can help you to get the very best CDP disclosure results in 2016 by acting as an expert third party to review your questionnaire before submission. This service is designed to improve completeness and check the quality of your reporting, resulting in a higher CDP score and ranking.

As a CDP Gold Software Partner, Ecometrica is also able to advise you on the changes to the 2016 CDP Climate Change disclosure, including the new way that companies will be scored and measured against one another.

Click below to download more information on the 2016 Ecometrica Score Optimisation Service:
Date Published: February 24, 2016
CDP's voluntary disclosure schemes are […]