AUTHOR: Jess Thomas-Harrison
'Without nature, we have nothing.'
'But if we don't assign a value to it, we don't invest in it.'
'Our prosperity continues to be built at the cost of nature.'
'Climate and nature are two sides of the same coin'
'Business, finance, society and nature can prosper together, but we have to start now.'
(Quotes from: UN Secretary-General António Guterres, David Craig Co-Chair of the TNFD)
The Launch of a New Framework
This month (September 2023) the TNFD (Taskforce for Nature-related Financial Disclosures) launched its new framework.
The TNFD was established to design and develop a set of recommendations for organisations to report and act on evolving nature-related issues, to inform better decision making by companies and capital providers, and ultimately contribute to a shift in global financial flows toward nature-positive outcomes.
After two years of design and development in partnership with 19 knowledge partners and the benefit of extensive consultation with market participants and other stakeholders, the TNFD launched its final recommendations on September 18th, 2023.
The TNFD framework is based around the same framework as the TCFD (Taskforce for Climate-related Financial Disclosures) with four pillars (Governance, Strategy, Role & Impact Management and Metrics & Targets) and 14 indicators: 9 dependencies and impacts and 5 risks and opportunities.
Governance

: The controls and procedures the organisation uses to monitor and manage nature-related issues;

Strategy

: The approach the organisation uses to manage nature-related issues;

Risk & Impact Management

: The process used by the organisation to identify, assess, prioritise and monitor nature-related dependencies, impacts, risks and opportunities;

Metrics & Targets

: The metrics and targets used to assess and manage material nature-related dependencies, impacts, risks and opportunities.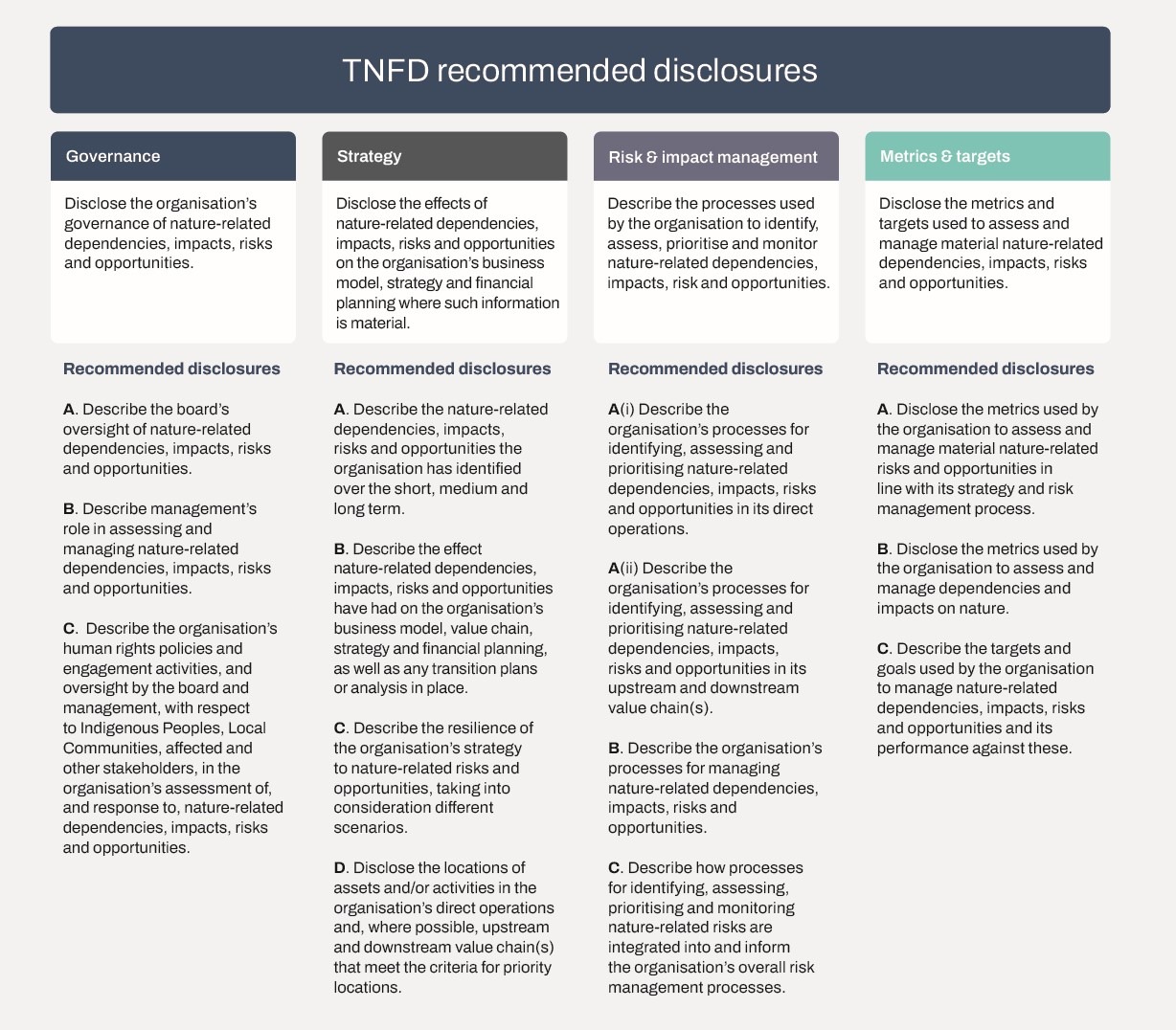 Interoperability
The recommendations are consistent with existing and emerging IFRS (International Financial Reporting Standards) and GRI (Global Reporting Initiative) reporting standards and aligned with the requirements of the Kunming-Montreal Global Biodiversity Framework (GBF).
The recommendations build on those of the TCFD and are consistent with the global sustainability standards of the International Sustainability Standards Board (ISSB). They also align with the impact materiality approach used by the GRI and are incorporated into the new European Sustainability Reporting Standards (ESRS). This provides reporting organisations with a set of nature-related guidance that enables their reporting requirements across jurisdictions (with the different approaches to materiality now in use) and so allows for interoperability of frameworks, lessening the burden on reporting companies of disclosing to multiple frameworks.
Integrating Nature into Reporting
It is hoped that this framework will enable businesses and finance to integrate nature into decision making and ultimately support a shift in global financial flows away from nature-negative outcomes and towards nature-positive outcomes.
David Craig, Co-Chair of the TNFD and founder and former CEO of Refinitiv said: "Nature loss is accelerating, and businesses today are inadequately accounting for nature-related dependencies, impacts, risks, and opportunities. Nature-risk is sitting in company cash flows and capital portfolios today. The costs of inaction are mounting quickly. Businesses and financial institutions now have the tools they need to take action. Building on the language, structure, and approach of the TCFD and consistent with the ISSB's sustainability reporting baseline, the adoption of the TNFD Recommendations represent a step-change in the momentum and capacity for business and finance to identify, assess and disclose their exposure to nature-related issues in a manner consistent with climate-related-reporting."
It is worth pointing out that there are 3 additional indicators specific to TNFD compared to the TCFD framework. These are indicators for indigenous populations, disclosing assets in specific priority areas and nature-related dependencies in its upstream and downstream value chains.
Following the example of the TCFD, the TNFD will track voluntary market adoption on an annual basis through an annual status update report beginning in 2024. The TNFD is anticipating companies to start announcing their intention to adopt the recommendations from as early as this week. At TNFD's final Recommendations launch event, GSK announced they are committed to publishing their first TNFD disclosures from 2026, based on 2025 data. Others are anticipated to signal similar intentions in the coming weeks and the TNFD will announce an inaugural list of TNFD Adopters – companies that have indicated their intention to start adopting the Recommendations – at the World Economic Forum at Davos in January 2024.
Nature Risk is Financial Risk
The framework has been developed following extensive global engagement by market participants, scientific and standards organisations and other stakeholders in their design and development.
Elizabeth Mrema, Co-chair of the TNFD, Deputy Executive Director of UNEP and former Executive Secretary of the Convention on Biological Diversity Secretariat that oversaw the COP15 negotiations, commented, "Nature degradation is increasing and with six of the nine planetary boundaries already breached, nature risk is financial risk. Yet to date, businesses have mostly considered nature to be an unlimited and free provider of critical inputs into their operations and value chains.
"Scaling up action to restore the resilience of nature is now a global policy and regulatory priority, and it is business-critical, posing significant long-term financial impact if not acted upon. Increasingly extreme weather events, the collapse of ecosystems and the extinction of species presents physical risks to business. Policy making and regulatory attention stemming from growing community concern about nature loss also creates elevated transition risks. Business as usual is no longer an option and business and finance can no longer consider nature and biodiversity as just a Corporate Social Responsibility (CSR) issue. It is now squarely a central and strategic risk management issue."
Further reading
The TNFD website has a vast amount of guidance, documents, videos and additional materials that are worth taking the time to go through. The next step for the TNFD is to develop the metrics, which they are currently doing on a sector by sector basis and Ecometrica, as part of their working group, are helping to develop a library of indicators that companies will be able to use to monitor biodiversity, water and species richness.
Date Published: September 28, 2023
The Taskforce for Nature-related Financial Disclosure (TNFD) has launched their new framework. In this blog we go over what it took for such a robust framework to be developed, how they are based on the TCFD's existing four pillars and the ever-growing importance that nature has in disclosures.