By Felicia Line, Space Program Co-ordinator for Latin America, Ecometrica
Avocados have sky rocketed in popularity in recent years, with vegans all over the world preaching their nutritious value in terms of vitamins, minerals and mono-unsaturated (healthy!) fats, resulting in avocado all over the menus of hipster cafes – with some cafes dedicated solely to different variations of the fruit. 
However, avocados have not been without controversy. Some cafes recently have even banned the superfood due to rising concerns about avocados profiting drug traffickers, destroying forests and contributing to greenhouse gas emissions through food miles and deforestation. 
Mexico is the number one exporter of avocados, with 34% of global production and a whopping 2 millon tons exported every year. To keep up with the rocketing demand, in the state of Jalisco, according to a study carried out by the state government of Jalisco in 2018, it is estimated that avocado orchards have grown by 27, 623 ha from 2003 to 2017 (around twice the area of greater London), or in other words, a growth of almost 2,000 hectares per year (almost the area of Edinburgh every year).  However, it is estimated that around half of these orchards are planted on temporary agricultural land, around a quarter on tropical forests and another quarter on temperate forests.   In some cases this land use change has led to unusual flooding in the state of Jalisco, where five people were killed and 3,000 people affected in June of 2019. 
In the neighboring state of Michoacán, the growth of avocado orchards has been even greater – the research institute CIGA-UNAM estimate that they have lost 2,900 hectares of forest per year between 2007 and 2014, with avocado orchards being one of the main drivers of deforestation. Michoacán is also the only state that can export avocados to the United States due to exclusive trade agreements. 
Many of the avocado orchards in Jalisco are planted on the fertile soils surrounding the Nevada de Colima volcano. Many of these are also grown using advanced technology and environmentally responsible practices, generating jobs and income for many farmers in rural areas in Mexico. It is estimated that 70,000 people work directly in the industry, and 360,000 indirectly. So how can we differentiate between "good" and "bad" avocados? 
The certification of avocados using standards like Rainforest Alliance is the answer for some growers, who can meet the various criteria of environmental and social responsibility. Some of the team from Ecometrica visited pioneering avocado packaging plant and producer "Grupo Los Cerritos" that exports to Japan, UK, Dubai, Canada and Europe. On average they produce 24 – 33 tons of avocados per hectare and sell at 60 pesos (around £2.50) per kilo.  They employ more than 100 people in the region. They already have a long list of certifications for ensuring their staff are treated well, for sanitation and avocado quality. They have also conserved some areas of forest, and have carried out reforestation campaigns, as they are aware of the importance of the forest for replenishing the water supply – in the dry season some avocado trees can demand up to 90 liters of water per week .  
However demands of the buyers dictate how these avocados are produced. More than 59% of avocado production in Mexico is exported. The Japanese are strict on pesticide use and ask for a soil analysis from the producers.  Dubai only wants the avocado to be aesthetically perfect and pay for the plane freight to transport them quickly. The Canadians are more relaxed. According to the director of the packaging plant, the most demanding buyers are from UK and Germany, who require Rainforest Alliance certification to ensure they haven't been planted on forests.  On the other hand how this is proved in a transparent way with evidence is not clear – one representative said the municipality provide a certificate from satellite image analysis, another person said that the auditor carried out a geographical analysis, others said it was just proved with the land purchase title (which can lend itself to corruption).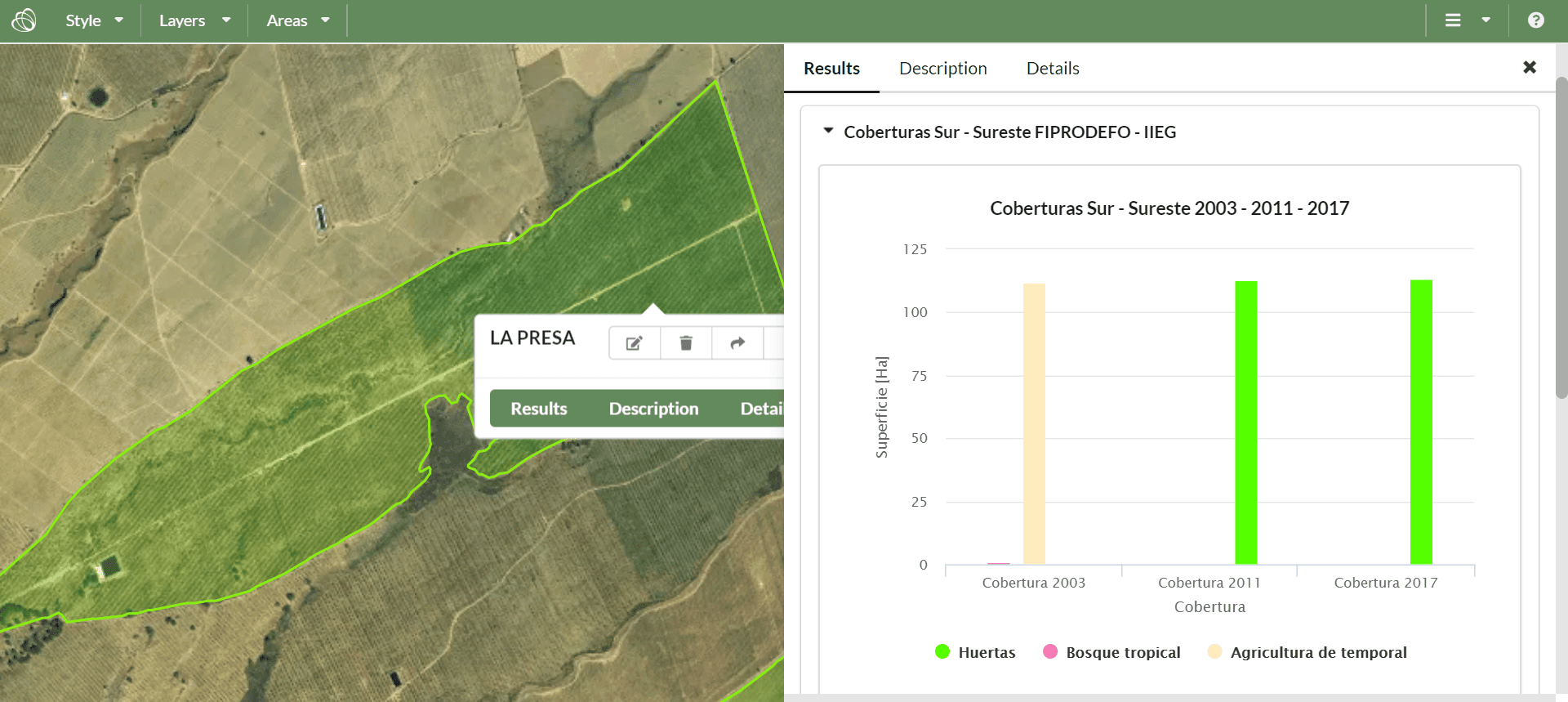 This is where the Ecometrica platform can help.  Through Forests 2020, Ecometrica are working with  the State public trust Fund for the Administration of the Forestry Program (FIPRODEFO) and the regional association for avocado producers and exporters in the region (APEAJAL), who have signed a historic agreement to work towards a more transparent monitoring system of avocado orchards.   
Using the Ecometrica Platform, the avocado orchards that are certified with Rainforest Alliance have been georeferenced and laid over historical land use change maps in order to prove that those avocado orchards have been planted on agricultural and not forests since an agreed baseline year with the state government and certifiers. This information can be shared with producers and buyers in a transparent way, and photos and videos of the orchards can also be uploaded and georeferenced.
However, for these good environmental practices to be more widespread, the buyers need to demand evidence that the avocados they are buying do not contribute to deforestation.  In turn, producers expect a better price for these avocados, in response to the increased cost of meeting the environmental and social requirements. For buyers to be willing to pay a better price, there needs to be a growing demand from consumers for certified avocados in supermarkets and cafes.  These certifications also need to be validated and backed up with transparent evidence.
Let's hope that the word spreads for more certified avocados, and less deforestation.  
Date Published: July 1, 2019
By Felicia Line, Space Program […]