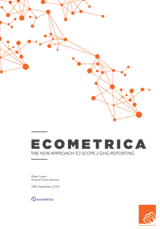 The release of the revised Scope 2 guidance from the WRI for the Greenhouse Gas Protocol in early 2015 has resulted in an overhaul of the reporting methodology of Scope 2 emissions associated with electricity supply.
Although the new guidance on Scope 2 emissions reporting, which includes requirements for using market-based factors, was released over a year ago, the new methodology takes into account far more detailed accounting than when Scope 2 emissions calculations were only required for location-based factors. The complexity of the guidance for scope 2 market-based emissions has proven challenging, as organisations are required to interact far more intensively with utility suppliers to ascertain the relevant information. This has led to slower implementation across the board, evidenced by the delivery of Scope 2 guidance training by the WRI as recently as September 2016.
As we approach the end of the 2016 calendar year, we understand that many organisations now wish to reflect best practice and report their most recent business year's GHG emissions using the new methodology. To help with this, Ecometrica are delighted to re-release an updated version of our introduction to the WRI's Scope 2 guidance as a reference point for all sustainability managers tasked with organising the next set of environmental reports for their organisation.
Authored by Ecometrica's Head of Client Services, Adam Leaver, the document provides a refresher of what the new guidance entails, puts the revision into context, and explains what you need to do in order to comply in the coming year.
Date Published: October 4, 2016
The release of the revised […]