Thank you to everyone who joined us for our webinar held on 30th May 2018, hosted by CDP and entitled Progressing Towards Water Stewardship.
If you were unable to join us, you can now watch a recording of the webinar below:
Extended Answers from the Webinar Q&A
What is the data source for Water Footprinting Tool? Is it consistent with other tools in the marketplace?
The Water Footprint Tool uses data from Hoekstra A.Y.  et al (2011) The Water Footprint Assessment Manual, and Franke N.A. et al. (2013) Grey Water Footprint accounting. The water footprint methodology designed by Hoekstra is widely accepted as the most commonly used methodology for Water Footprinting. Where data is retrieved from also depends on the region we need the data for, though in general our data sets are sourced from government departments, non-governmental organizations and scientific institutes. We also ask our clients to provide their own specific data sets for calculating their water footprint. So while our data sources are consistent with other tools in the marketplace, we will also add data layers that are specific to the questions you need to answer for your individual water footprint assessment.
If we only know water consumption in our facilities, do we have to quantify green, blue and grey water for categorisations? If so how could we map total water consumption into these different categories?
The answer to the question depends on what your facilities are. If they are mainly office-based, you can use data about your water supply from your water supplier to give you a blue water footprint. If your facilities capture rainwater for use, then you will also have a green water footprint that you can calculate. You'll also have a green water footprint if you grow any sort of crops on or around your premises that only use rainwater to grow. Calculating and categorising that manually in spreadsheets is possible, but tough – you'll need datasets about the amount of rainfall on your premises over the time period you want to report for. Of course, our Water Footprinting Tool does all that for you! If you grow plants or crops and water them using tap water, then that will become part of your blue water footprint. You'll need to pretty much manually keep track of how much water you use to water your plants if you want to have a robust water footprint.
Additionally, if you release hazardous substances from your facilities, you can use that data to calculate your grey water footprint. Again, doing it manually isn't easy, but we will either have, or be able to easily acquire, the datasets needed to work this out on your behalf.
What crops does the tool work for?
We have yet to find a crop that the tool doesn't work for. The first water footprint was for wheat because it's a crop grown very widely across the US and Europe. We've spoken to our partners who are interested in modelling water footprints for many different crops, for green, blue and grey, and we haven't had any trouble doing that or finding the data we need. Grey is obviously the toughest footprint to calculate but so far, and in general, there hasn't been a problem. Naturally the most abundantly-grown crops have the most public data available, but often a company's own data on their crops can allow us to build very comprehensive maps and analysis.
Is there a way to develop a water reduction target for a company based on data and ensuring that a risk of water scarcity is mitigated?
Yes we can. We can measure your water supplies and map water risk for each one, we can provide contextual maps that show water scarcity and availability in your different operational areas, and we can calculate your current consumption against these, which will give us a good idea of how you can start to set short and long term targets for water use reduction.
Do you have other risk modules?
Yes, as part of our Land Use Risk Profiler, you can get an understanding of all your risks around water, biodiversity and deforestation. It's an out of the box software solution that we can map your direct and indirect operations onto, and give you a complete understanding of those risks and how to act on them.
Could you plot your entire supply chain on here?
Yes, definitely – you just need to have all your supply chain data. If you have data on your entire supply chain, we can plot it and begin to create risk and opportunity maps, and create supply chain reports, analysis and dashboards in Business Intelligence.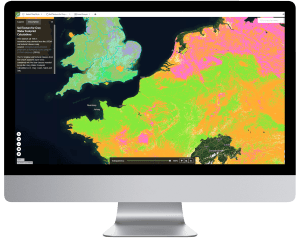 How do I organise the data so that it's actionable?
The Business Intelligence (BI) module allows you to sort the data into actionable results. The mapping platform is good for presenting the data, running queries on particular points of interest, and looking at regions, but BI allows you to sort data, really look into what's happening with your risks, and take action as a result.
Does this work anywhere in the world?
Yes, it does. As long as you have a modern web browser, you can use the Ecometrica Platform without any problems. The platform is also available in five languages and has translation support for any others you might need, plus our analyst and support teams hail from all over the world, so we are able to provide global support in a very local way.
Why is it different?
Many online tools offer you a generalised 'water footprint' often based on water consumption or water supply. Our Water Footprinting tool offers you detailed results based on your specific data, which we use directly and as a source to retrieve the correct data from our integrated layers and database. This way we can determine your water footprint much more accurately so you can make smart decisions underpinned by correct, transparent, verifiable information.  
What advantages does it offer over manual means like spreadsheets?
The advantages over manual spreadsheets are twofold. Firstly, while spreadsheets can be used to calculate a water footprint, it will take an awful lot of time and effort – especially if your company has numerous sites around the globe and the water footprint needs to be calculated for a variety of different crops. Besides being a laborious job, working with such a large amount of data would also make it more prone to errors. It's thought that over 90% of spreadsheets contain errors, so you have to ask yourself – is it worth taking the risk?
Secondly, in addition to this, you will also need to collect all of the required data from within and outwith your organisation to create a full, robust water footprint. However, with the Ecometrica Platform, most of the required data sets will be available from the get-go, which means you spend less time gathering information and more time taking action on the results.
What is the time horizon of the water risk module?
It's available now, as is the Water Footprinting Tool and the Land Use Risk Profiler.
—
Thank you for joining us. If you have any further questions about the Water Footprinting Tool, please get in touch.
Date Published: May 31, 2018
Thank you to everyone who […]