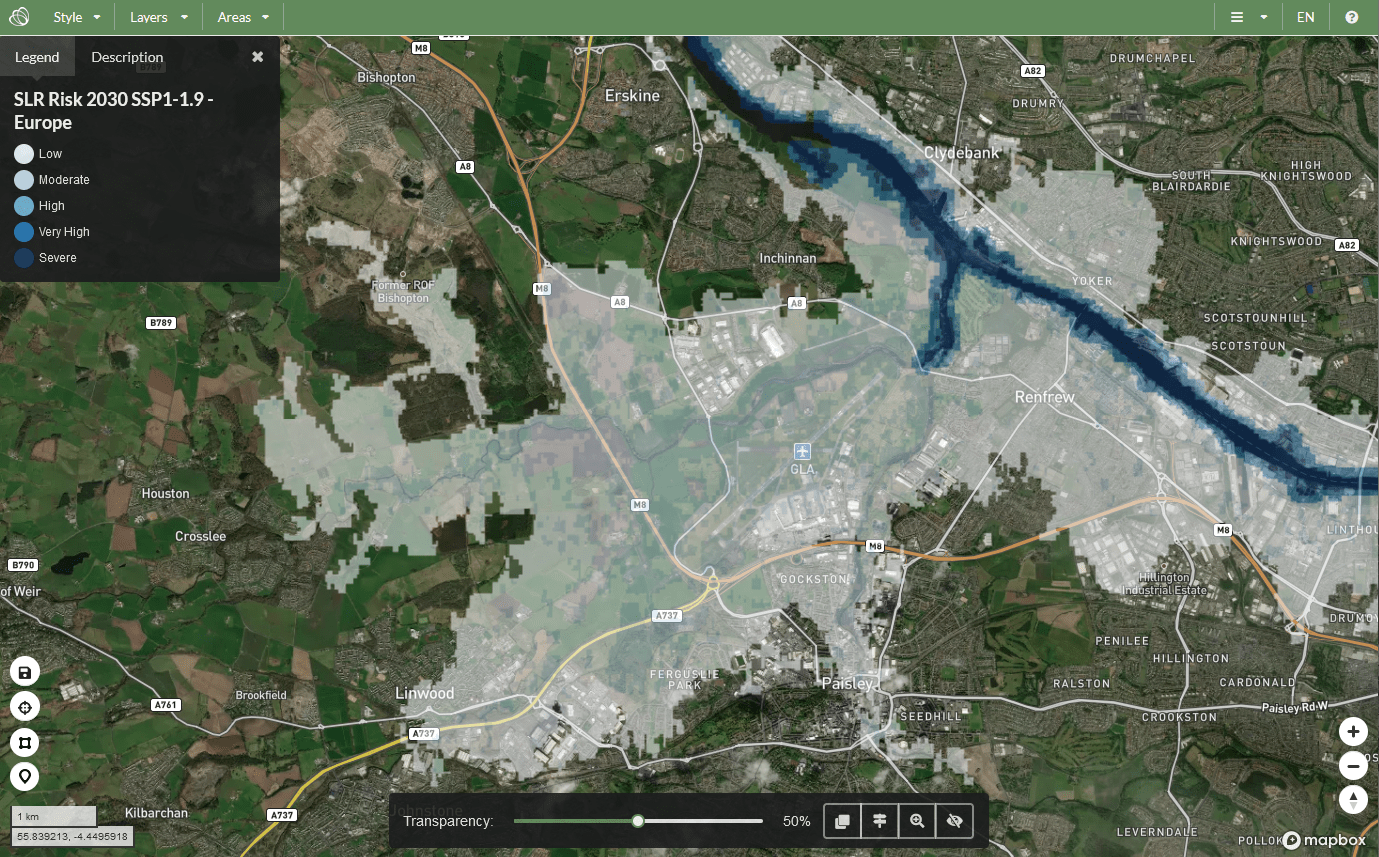 written by Nina Moffat and Jil Bournazel  | Senior Mapping Analysts at Ecometrica
Ecometrica's mapping team has developed a methodology which outputs maps that rank risk from sea level rise from Low to Severe. These maps combine authoritative sea level rise projection data from the IPCC's most recent Annual Report (AR6) alongside high-resolution global elevation data from the Japanese space agency (JAXA).
With 10% of the global population living in coastal areas less than 10m above sea level, sea level rise is something with the potential to directly affect over
600 million individuals
. The real number, however, could be far greater as aside from direct impacts to human safety and damage to infrastructure, sea level rise can have many other negative impacts including losses to coastal industries like tourism, degradation of coastal wetlands (resulting in losses of ecosystem services like flood protection and carbon storage), loss of wildlife habitat and increasing incidence of vector-borne diseases, including malaria. When you combine all these impacts with projected increases in storm frequency and intensity, understanding sea level rise becomes even more critical.
By generating maps for a diverse range of climate scenarios, we are also able to provide scenario analysis results which can feed into the Task Force on Climate-Related Financial Disclosures (TCFD) reporting process, which is expected to become mandatory in the UK by 2025.
Figure 1 displays an example risk map for Europe for the sea level rise that is projected to occur by 2030 under the SSP1-1.9 scenario, in this case focused on Glasgow, where the world leaders and civil society organisations that will determine future climate action are gathering for COP26. 
The SSP1-1.9 scenario (where SSP stands for Shared Socioeconomic Pathway) is one of the best-case projections in which global warming holds close to 1.5°C above pre-industrial levels by 2100. Based on this map, several pieces of key infrastructure, not to mention many roads and homes, are considered to be at risk from future sea level rise. Large areas to the southwest of Glasgow are categorised as Low to Moderate risk including Glasgow Airport and several schools within Paisley. Additionally, the Golden Jubilee National Hospital, right on the banks of the Clyde is partially within Severe risk areas, and the Queen Elizabeth University Hospital (including Royal Hospital for Children) sits within the Low to Moderate risk categories.
Considering that these results come from one of the IPCC's most optimistic scenarios and that there are many countries anticipating far worse impacts from sea level rise, the urgency to understand the risks we face and address human-caused climate change is incredibly high – making events like COP26 essential for establishing clear and concrete plans for moving forward.
Read more about TCFD reporting here