Use Case
Streamlined Energy and Carbon Reporting (SECR)
Ecometrica Sustainability is fully compliant with the new Streamlined Energy and Carbon Reporting (SECR) framework. Maintain control of your data and receive robust SECR figures ready for your annual reporting.
Request a Demo
Overview
Utilising Ecometrica Sustainability for the new Streamlined Energy and Carbon Reporting requirements couldn't be easier. Ecometrica Sustainability allows you to easily collect, calculate and report your energy use and carbon emissions in compliance with the new framework.
For many companies, SECR will be the first time they have to collect and report on energy and carbon data. Using Ecometrica Sustainability removes the worry about not collecting or reporting the correct information.
Domestic UK only, including UK offshore area from:
£1,750 +VAT
Pricing shown is for non-listed organisations with less than 25 sites reporting UK emissions only. For pricing for larger organisations or for activities outside the UK please get in touch using the form below.
The new SECR regulations are replacing the Carbon Reduction Commitment (CRC) scheme from 1st April 2019 in an attempt to simplify reporting requirements while bringing almost 8,000 more businesses into the UK's mandatory carbon reporting. The reporting requirement of energy and carbon for all large organisations in the UK (except for some exemptions, see below) is in line with the Taskforce on Climate-related Financial Disclosures (TCFD) recommendations. 
SECR aims to: 
Increase awareness around energy costs within organisations

Level the reporting burden between quoted and unquoted organisations

Provide organisations with the right data to inform energy efficiency measures and opportunities to reduce their impact on climate change

To provide greater transparency for investors and other stakeholders. 
Who has to report under SECR, and where?
For financial years starting on or after 1st April 2019, the new Streamlined Energy and Carbon Reporting (SECR) regulations will affect:
Quoted companies;

Large* unquoted companies;

Large* Limited Liability Partnerships (LLP)
Organisations exempt from the full SECR disclosure include those that can confirm they have used 40,000 kWh of energy or less over the reporting period, where the directors consider the disclosure of the energy and carbon information would be seriously prejudicial  to the interests of the organisation, and where it is not practical to obtain the information requested in the disclosure.
Companies in scope of the legislation will need to include their energy and carbon information in their Directors' Report as part of their annual filing obligations. Full SECR reporting guidance is published in full by the UK Government's Department for Business, Energy and Industrial Strategy (BEIS). 
What needs to be reported?
Apart from an increase in the number of organisations that are required to report compared to the outgoing Mandatory Greenhouse Gas requirements, SECR includes both carbon and energy reporting. There are different reporting requirements whether you are reporting as a quoted company, or either as large unquoted company or LLP.
*Large companies are defined by the Companies Act 2006 as those which have two or more of the following criteria for the reporting period:
An annual turnover greater than £36m
An annual balance sheet greater than £18m
Quoted companies
Annual greenhouse gas emissions from activities for which the company is responsible including combustion of fuel and operation of any facility; and the annual emissions from the purchase of electricity, heat, steam or cooling by the company for its own us

Underlying global energy use

Previous year's figures for energy use and greenhouse gas emissions

At least one intensity ratio

Energy efficiency action taken

Methodology used
Large unquoted companies and LLPs
UK energy use (as a minimum gas, electricity and transport, including UK offshore area)

Associated greenhouse gas emissions

Previous year's figures for energy use and greenhouse gas emissions

At least one intensity ratio

Energy efficiency action taken

Methodology used
Benefits of using Ecometrica Sustainability for your SECR disclosure

Fully SECR framework compliant
All questions, activities and calculations have been checked to output to the SECR framework.

Use the data you have
Not all data comes ready to use, that's why we allow data entry using either primary data, spend data, or published assumptions


Secure storage for your data and evidence
Remove the uncertainty about storing your evidence files and keep your audit trail. Supported by Ecometrica Sustainability's true Audit Ready claim by PwC.

Up-to date global emission factor database provided 
Sourcing and verifying the quality of emission factors has already been done by Ecometrica Analysts so you only need to gather your organisational data

Pre-made Director's Report output
By using our SECR output you know you are reporting all the required information. Delivered in an easy to use output for your annual report team to format into your company style.

Multiple user log-ins
Data can be housed in various departments in your organisation. Give multiple users access, or email a question directly to a colleague.
In advance of the imminent publication of the UK's Environment Bill and expanding EU and global legislation focused on eliminating deforestation from supply chains, Ecometrica is delighted to host Forest Risk Commodities and Compliance webinar with CDP and EFECA
Ecometrica's solution offers an easy-to-use, accurate and customisable way of reporting on all of the 15 green house gas (GHG) categories which compound scope 3 emissions.
By September 30th, 2021 every entity bidding on UK public contracts worth £5 million or more will be required to measure their carbon footprint and have a Net Zero target for 2050 in place.
Today Ecometrica is pleased to announce that it recently engaged with British manufacturer of a broad range of fluid control products for steam systems, Spirax Sarco to provide a climate risk resilience report for some of its global manufacturing sites.
How Building A Sustainable Brand Has Helped Ecometrica with Attracting & Retaining the Best Employees
Ecometrica is proud to be a Signatory to the United Nations Global Compact, formally committing to report on our societal responsibility as we innovate, influence and inspire others toward a more sustainable future.
Ecometrica developed the Global Biodiversity Metric which compiles satellite-derived information representing drivers that characterise the biodiversity potential of an area and the different anthropogenic drivers which put pressure on the natural environment.
Join us for a brand new Ecometrica webinar exploring the way organizations are using satellite and other data to remotely monitor the sustainability of their supply chains.
In advance of the CDP Online Response System (CDP ORS) going live next week we've summarised the CDP 2021 disclosure cycle.
Ecometrica has alway helped clients calculate homeworker emissions, however until last year homeworking was a rarity, now with the global pandemic it's the norm.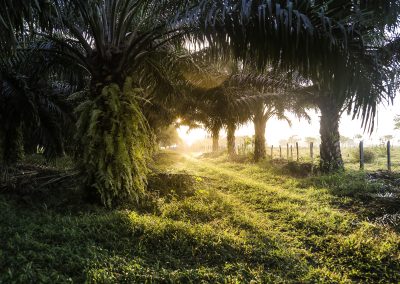 UK Space Agency's International Partnership Programme (IPP) and Ecometrica's Forests 2020 Platform fuel industry initiative.
Ghana launches National Map of Forests and Land Use. Ecometrica-managed Forests 2020 project sees development of world-class Ghanaian earth observation capabilities.
"As a rapidly growing business reporting to the CDP for the first time presented some challenges. With a lot of hard work in the CR team, help from around the business and invaluable assistance from Ecometrica we're delighted that our first reporting submission to CDP has been recognised as a success."
Suzanne Westlake, Head of Corporate Responsibility & Corporate Affairs, Ocado
"After two years of completing environmental reporting on our own, we decided that partnering with an expert was more efficient and would give us greater certainty over the science and the calculations. We reached out to Ecometrica because they're one of CDP's gold-level software partners. As a data analytics firm familiar with the complexity of the process, we asked many questions of the Ecometrica team before signing on. We're convinced that we made the right choice."
Patrick McLaughlin, Senior Vice President, Corporate Social Responsibility, Verisk Analytics