Product
The Most Powerful Sustainability Reporting Software
Everything you need for simple, transparent, and accurate sustainability reporting. Expertise built-in.
Request a demo
Trusted by leading organisations 
Ecometrica's Sustainability Reporting software is an end-to-end environmental accounting and sustainability management solution. It is used by the world's largest companies to collect a diverse, georeferenced data set, going beyond traditional sustainability reporting to include other key corporate indicators such as water, forests, and social responsibility metrics.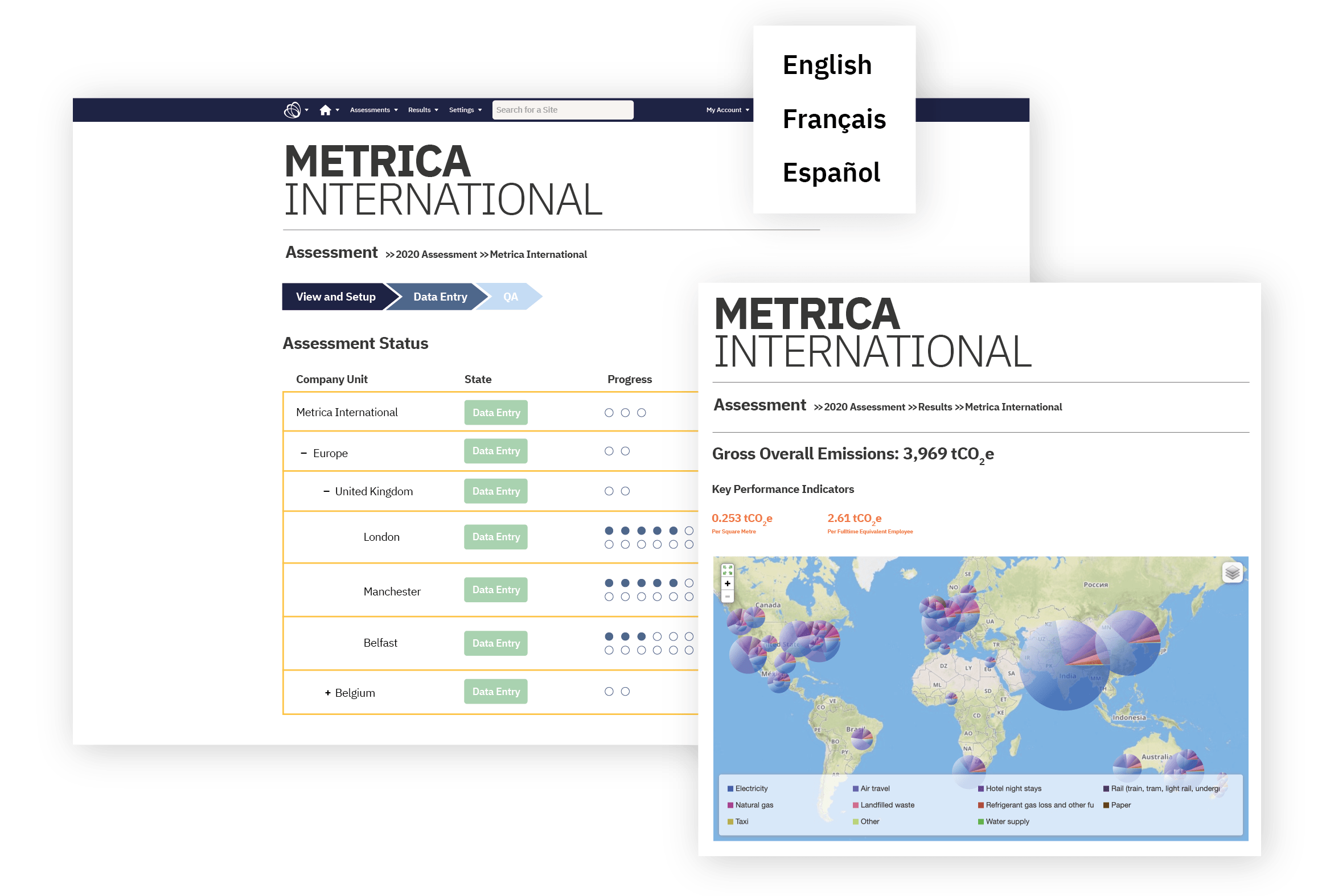 Master the Reporting Lifecycle
Real World Data Collection
Sustainability data is spread all over the organization often in out of date untracked spreadsheets. With Ecometrica Sustainability you can say goodbye to the spreadsheet nightmare. We offer a simple controls based environment that allows you to collect data from the people who have it in the format they have it.
Real data does not come in one file, from one supplier, one unit, or even one language. Ecometrica Sustainability is purpose built for collecting disparate and wide ranging formats in multiple languages, and hundreds of units.
FEATURES THAT ENABLE THIS
- Tailored data entry
- Send to Colleague
- Spreadsheet Upload
- Sign Off
- Auto-Approval
- Evidence storage
- Language options
Calculate all indicators accurately
All calculations are built-in. Backed by a database over 80,000 emission factors and 100,000 unit conversions, Ecometrica Sustainability automatically calculates emissions by minimizing the error in sourcing and applying the correct factors and formulas. Ecometrica Sustainability is the only solution that can boast of having a truly global database of factors and conversions built in from the get-go.
FEATURES THAT ENABLE THIS
- Emission Factor
- Database Assumptions
- Database Calculation Engine
So many protocols require the same data but in a different format, unit, or structure. Using Ecometrica Sustainability you enter your data once and the Platform automatically does all the calculations and compliant reporting in the way each protocol prescribes.
Appropriate sources are included while superfluous information is stripped back. Only the data you need for each protocol is presented to make reporting to a wide range of stakeholders a breeze while giving you the full analysis when you want to look deeper.
FEATURES THAT ENABLE THIS
- Multi Protocol
- Audit ready (assured by PwC)
- Quality Assurance
- Report Notes & Assumptions
- PDF and Spreadsheet Output
- Custom outputs with BI
Go beyond reporting and start driving improvement in your organisation. Ecometrica Sustainability provides detailed business intelligence capabilities into your sustainability data. Derive actionable insights to drive both enterprise financial and sustainability performance.
Once the reporting cycle is complete access all your data inside our built in business intelligence solution. Create custom dashboards and share them with the organization at large. Slice and dice the data and export the results in the format of your choice, or work directly with our analysts to optimize reporting performance and identify gaps and opportunities for improvement.
FEATURES THAT ENABLE THIS
- Business Intelligence
- Business Relevant KPIs
- Dashboards

Data Integrity
Data is automatically checked against acceptance criteria based on change and materiality thresholds.

Automated Calculations
All calculations are automated and take place in the platform providing consistency, transparency, and auditability.

Transparency
No black boxes, every piece of data comes with a complete audit trail for all the calculations steps, including all the factors and assumptions used and their source.

Quality Assurance
Optional manual or automated data assurance by our team of sustainability experts and specified thresholds.  

Audited Factor Database
All the factors and assumptions used for calculations are maintained by Ecometrica experts and audited by Price Waterhouse Cooper.

Auditor Login
A dedicated and tailored auditor login without any editing rights ensures that commissioning and auditing of your sustainability data is fast and cost-effective.

Data Quality Tracking
All data is categorized by quality. Data quality is tracked and areas for improvement are easily identifiable.

Data Locking
At various stages of the reporting lifecycle, quality assured data is locked to ensure that approved data cannot be modified and to prepare for Audit.

Accredited and Trusted
Ecometrica is a CDP Gold partner and is the only solution assured as Audit-Ready by PWC.
Not everyone can be a climate change expert, and that's why Ecometrica Sustainability has been designed from the ground up to allow anyone to enter data after only a couple of minutes of training. Intuitive data entry UI with context specific help tips allows anyone to collect meaningful data from around the world.
With our tiered user access permission system, you can control who can edit and view data across the organisation. Presented in multiple languages, with true global coverage and quick support channels, you'll never be left in the dark about your sustainability data.
"Ecometrica's combination of expert analysts, support and software allowed us to be truly effective and set up a simple system for input and data management.  Our sites use the software monthly for tracking of scope 1 and 2 emission sources, KPIs and also to create dashboards."
Annie Blier, Director, Environment
IAMGOLD
"The move to the Ecometrica Platform has been a success – the system is intuitive and easy to use, and the support of the Ecometrica team has been excellent. I particularly value the way Ecometrica try to put themselves in our shoes to understand our reporting needs."
Oliver Dudok van Heel, Head of Client Sustainability and Environment
Freshfields Bruckhaus Deringer
"Having Ecometrica as a partner saved us lots of valuable time and gave us more confidence in the quality and completeness of our results. In the future, Ecometrica will help us maintain a level of consistency in our reporting and function as a repository of the institutional knowledge that we build from year to year."
Patrick McLaughlin, Senior Vice President, Corporate Social Responsibility
Verisk Analytics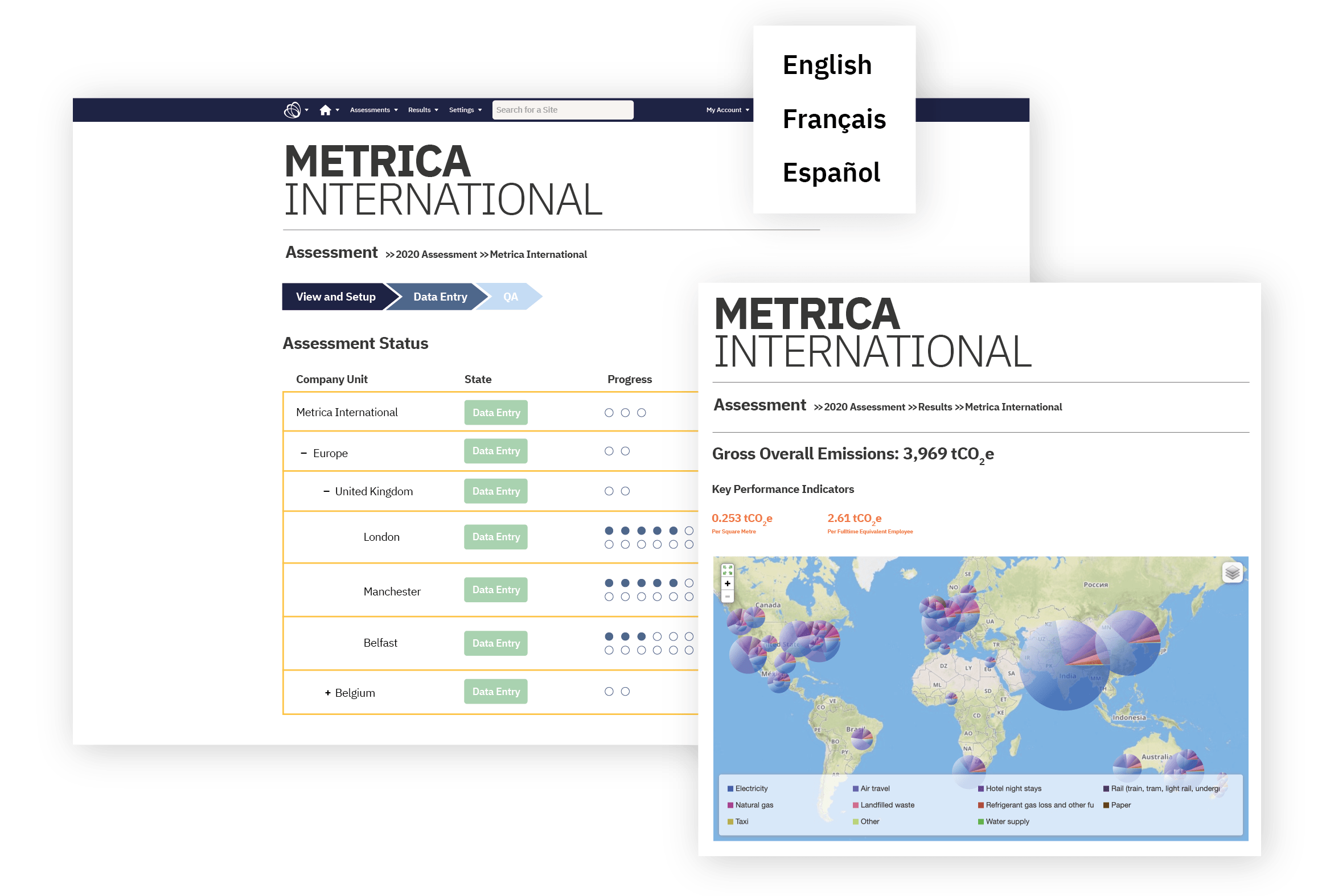 We also know that organisations need to have expert analysis and powerful tools at their fingertips and that's why Ecometrica Sustainability is fully scalable to accomodate any organisational size. Unlimited storage for answers, comments, and support files is standard.
Importantly, your data is always your data. Global organisations need to be able to trust their data handlers which is why Ecometrica regularly undertakes penetration testing and is audit ready as assured by PwC.
Market-Based Reporting

Ecometrica Sustainability has full integration for market-based reporting alongside location-based reporting. You may have just bought your first green tariff or REC, or you might have a 100% renewable target in the future, with Ecometrica Sustainability you can track, calculate, and monitor your progress and ambition.
Audit Ready

Every year we commission PwC to assure that Ecometrica Sustainability is fully audit ready. This means that the database has fully up to date factors and conversion, quality assurance checks are built into updating the database and the assessment workflow, and that all the data needed for client assurance is readily available. Being Audit Ready allows our clients to save time and costs when their data is audited.
Materiality and Variance calculations

Knowing which bits of data to focus on can be a challenge. Large variances with immaterial impacts often lead to unproductive outcomes and delays. Ecometrica Sustainability instantly calculates the materiality and variance for every data point to make sure you're focusing on the real issues and getting meaningful solutions.
Beyond Carbon, measure what matters to you
Sustainability reporting has moved beyond the one-liner hidden at the end of an annual report. Sustainability metrics are wide ranging, industry specific, and need to be dependable for decision making and planning.
Using Ecometrica Sustainability's Reporting Indicators and calculation engine, company specific metrics can be automatically calculated and tracked. Whether you are looking at particulate matter from fleet vehicles, acid pollution from industrial plants, or just want to report business travel in one company-wide unit, our Reporting Indicators are ready to go.
With thousands of out-of-the-box question collections, Ecometrica Sustainability is ready to collect all your corporate data. Ecometrica Sustainability covers all GHG Protocol Scopes (1,2 & 3) and includes fully integrated offset options and emission reduction calculations built-in.
Choose from a range of pre-made question collections such as commuting, shipping & logistics, waste, CSR, water, business travel or create your own bespoke to your business activity. During the set-up phase, your dedicated Ecometrica analyst will work with you to create the best data collection system possible.
With Ecometrica Sustainability you're not alone. We believe that Software as a Service should have service included, that's why every Ecometrica Sustainability client gets assigned an expert analyst. Your analyst will be with you every step of the way through system set-up, boundary setting and historical data loading to end-of-year reporting cycles and protocol submission support.
Subject specific help is available throughout the Platform for you and your users, but when that isn't enough our team of analysts is ready. Ask for help directly through the Platform, send an email or IM, or pick up the phone and ask us directly. 
Science Based Targets
With accurate data collection, up to date emission factors, and expert analyst support, Ecometrica can help you navigate and set Science Based Targets that are relevant to your organisation.
Impact Reporting
Corporate responsbility and sustainability data covers much more than just Greenhouse Gas emissions. Collect and analyse the data relevant to your oragnisation in one easy to use solution. 
SECR Reporting
Ecometrica Sustainability is fully compliant with the new Streamlined Energy and Carbon Reporting (SECR) framework. Maintain control of your data and receive robust SECR figures ready for your annual reporting.
CDP Reporting
Master your CDP submissions across the different disclosure schemes using the Ecometrica Platform. Year after year, Ecometrica customers improve their CDP scores by working with us.
Looking for a bespoke solution?
If you're looking for something different, or simply have a question about anything you've seen, we can help tailor a solution to your needs and requirements. Speak to an analyst for more information.
Carbon offsets come in all sorts of shapes and flavours but how do you know what makes a good carbon offset? Here are some simple pointers to help you avoid the worst and seek out the best.
An accessible yet detailed look at the biomass carbon accounting frameworks and their applications in UK and Europe, recommended for those interested in the sustainable use of bioenergy. Download the report.