Forest Risk Commodities are agricultural exports that are linked to global deforestation, usually through conversion of forest to agricultural land. Seven key commodities are responsible for an estimated 65% of annual tropical deforestation risk within UK supply chains (
JNCC, 2021
):
Palm Oil

Soy

Cocoa

Cattle (Beef and Leather)

Coffee

Maize

Rubber
Deforestation is the second leading cause of climate change globally and is responsible for 11% of all greenhouse gas emissions. In a bid to conserve forests and ecosystems at risk the UK and EU are supporting other country's efforts by introducing transparency and accountability into the supply chain.
Deforestation Legislation
On 29th June 2023, the
EU's Regulation on deforestation-free products (EUDR)
entered into force. Under the Regulation, any operator or trader who places these forest risk commodities (or products that use them) on the EU market (or exports them) will have to be able to prove that they do not come from recently deforested land or are linked to forest degradation.
The regulation comes into effect in 2024, meaning all eligible companies will need to implement due diligence systems that include:
Geolocation of all plots of land where relevant commodities were produced

Conclusive and verifiable information that the relevant commodities are deforestation free

Conclusive and verifiable information that the relevant commodities have been produced in accordance with relevant local laws (for example, that they are not produced in areas that are prohibited for agricultural use)
Additionally, the UK has passed similar legislation – the UK Environment Act will make it illegal for large businesses in the UK to use forest risk commodities produced on land illegally occupied or used. Companies will need to implement a due diligence system across their supply chains in order to demonstrate compliance.
Who will be affected?
Many industries will be affected by upcoming deforestation legislation, with the primary sectors being agriculture, food and finance. These sectors are very specific and will be required to comply if they meet the following conditions:
Agricultural traders that source key "forest risk" commodities such as soy, beef, palm oil, cocoa, and coffee
Large food companies (>500 employees, T/O >£500m, significant footprint in UK, EU or North America) with forest risk commodities in their supply chains
Local producer organisations who want to assure their farms in order to access international export markets
Banks who need to screen loans such as rural credit against zero-deforestation criteria
International financial institutions that need to screen portfolios for exposure to non-compliance with zero-deforestation rules
What will be required?
To comply with the EUDR, companies will need to implement due diligence systems across their supply chains. These systems should include:
Key information such as the quantities of product; company information of suppliers and buyers; countries of origin
Geolocation of farms where the purchased commodities were produced (clarify whether this needs to be polygons or points)
Assessment of whether commodities were free from deforestation from 2021 onwards, and produced in line with local laws
A risk assessment (including prevalence of forest and deforestation in the region of origin and local land tenure and rights of indigenous peoples)
Risk mitigation measures
To do this effectively, companies should use high quality, authoritative data that is recognised by national authorities with the remit for monitoring and managing forest resources in the country / region where the commodity is produced.
This minimises errors such as potentially missing deforestation or falsely accusing a local producer of deforestation which may result in using freely available, global datasets.
The Ecometrica Forest Due Diligence product can rapidly analyse global supply chains covering 100,000s of farms to red flag potential linkages to deforestation.
To effectively ensure that companies are compliant with deforestation and conversion-free committee commitmentare deforestation compliant, Ecometrica provides high quality, contextual and authoritative data via enhanced low-lying land maps in countries globally; including Brazil, Colombia, Mexico, Indonesia, and more. Furthermore, the heritage of our work in projects such as Forests 2020 and UK Pact gives our clients confidence in our expertise.
Ecometrica's data is authorised by national authorities, which in turn minimises errors of potentially missing deforestation or falsely accusing a local producer of deforestation. Our network of partners (including governments and third party commercial content providers) means we use authoritative data for analysis. When required we can offer a tiered approach for customers to access more granular data.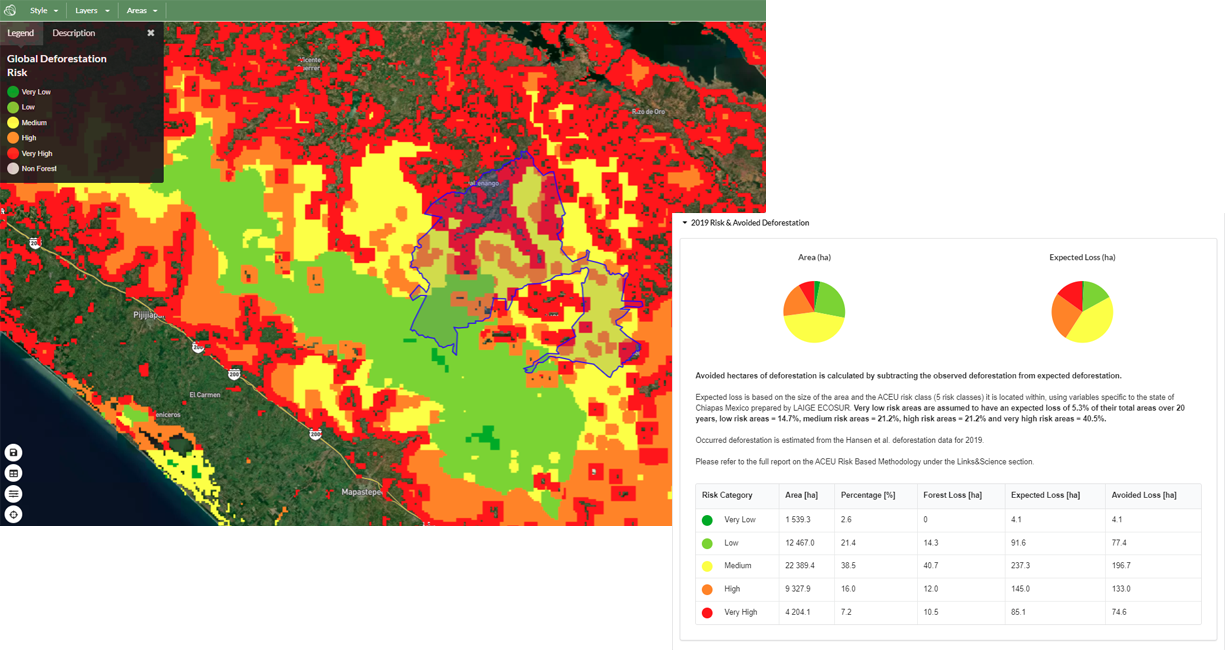 Environmental Risk Profiler
Obtain a high level overview of the deforestation risk, biodiversity status and water risk in your global supply chain. Determine the share of your supply chain operating in areas with a high deforestation risk and areas of high biodiversity value. Identify assets or markets located in areas at high risk of present and future water shortages.
A complete forest monitoring solution for your supply chain. For each asset or sourcing area, monitor the historical deforestation, deforestation risk, and restoration. Enable near-realtime monitoring of deforestation to continually monitor supplier and sourcing areas for compliance. Analyse the overall forest risk across your global supply chain.
Understand the past, present and future water risk across your supply chain. Understand baseline water risk and water availability. Quantify future water risks based on climate prediction of rainfall changes in 30 and 70 years as well as population predictions. React quickly with current drought conditions across your supply chain. Make informed decisions about potential suppliers' water risk.
Complex global climate model projection data for physical risks, such as water shortages, storms, flooding, sea-level rise, and wildfires, distilled into clear actionable insights. Make informed decisions to improve the resilience of your asset portfolio and supply chain. Explore the risk profiles of potential future assets, suppliers or sourcing regions.
Looking For A Bespoke Solution?
If you're looking for something different, or simply have a question about anything you've seen, we can help tailor a solution to your needs and requirements. Speak to an analyst for more information.
"The move to the Ecometrica Platform has been a success – the system is intuitive and easy to use, and the support of the Ecometrica team has been excellent. I particularly value the way Ecometrica try to put themselves in our shoes to understand our reporting needs."
"As a rapidly growing business reporting to the CDP for the first time presented some challenges. With a lot of hard work in the CR team, help from around the business and invaluable assistance from Ecometrica we're delighted that our first reporting submission to CDP has been recognised as a success."
"Ecometrica offers a dynamic suite of environmental risk analysis, worked on by a flexible and technically savvy team, alongside a useful business intelligence platform to crunch the risk results from the level of individual areas of interest right through to global totals. Technical support and training is also offered to users so there is an understanding of the data on the platform"
"Ecometrica's combination of expert analysts, support and software allowed us to be truly effective and set up a simple system for input and data management. Our sites use the software monthly for tracking of scope 1 and 2 emission sources, KPIs and also to create dashboards."
Newsletter Sign Up
Sign up to our monthly newsletter where we provide industry insights, exclusive first-listen access to our podcast as well as 'How To Guides' on everything from GHG accounting to TCFD.