The EU Corporate Sustainability Reporting Directive (CSRD) is a new reporting policy that has been developed by the European Financial Reporting Advisory Group (EFRAG) at the request of the European Commission. It is to replace and enhance the current Non-Financial Reporting Directive (NFRD). Nearly 50,000 companies – almost three quarters of all businesses in the European Economic Area (EEA) – will be expected to report to the new framework.
The scope of companies required to report under the EU CSRD will be significantly larger compared to the NFRD which was limited to large listed EU companies. Under the CSRD, all listed companies on the EU regulated market, including listed SMEs (except for micro-enterprises) who will be phased in, will be required to disclose.
Large companies are classified by the CSRD as one that meets two out of three of the following criteria:
250+ employees during the reporting year

over €40 million of net turnover

over €20 million of total assets
Finally, non-EU companies who generate a net turnover in excess of €150 million in the EU and have at least one subsidiary within the European Union, will be obliged to report at a global consolidated level to the EU CSRD.
Although delays and changes are still possible, the EU CSRD is expected to be rolled out in a phased approach starting as of 1 January 2024.
All large companies already complying with the current NFRD will be the first ones to start reporting to the new regulation from 1 January 2025, covering their financial year (FY) starting in 2024.
Afterwards, large companies that at the moment are not subject to NFRD will be required to report. These will have to disclose their FY 2025 as of January 2026.
Finally, non-EU companies with at least one subsidiary in Europe and small and medium-sized enterprises (SMEs) will be required to report their FY 2028 as of January 2029. For the latter, there is also the possibility to start reporting voluntarily from 2027 (disclosing FY 2026).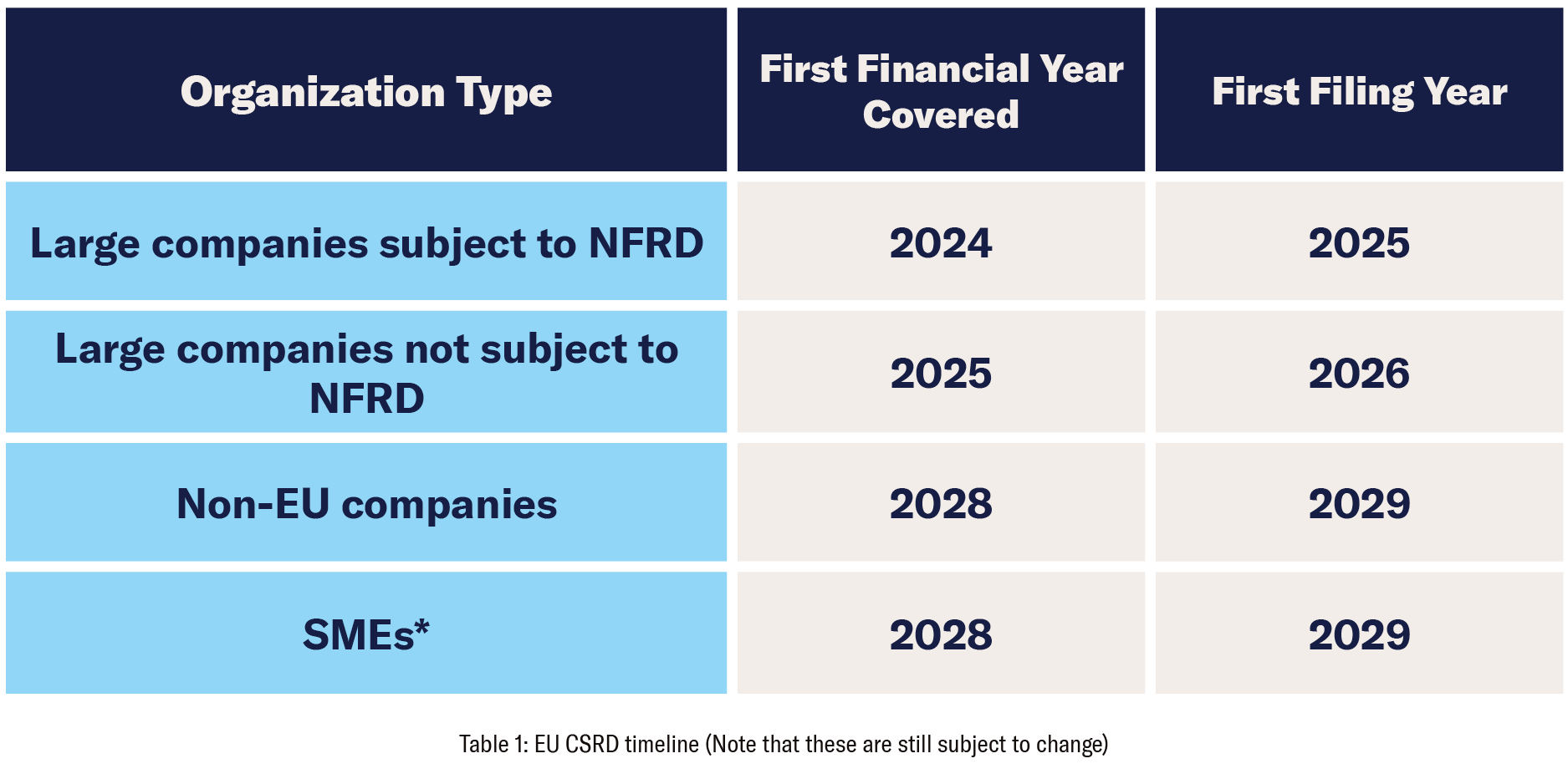 The EU CSRD aims to be much more ambitious and detailed than the current NFRD and the information must be publicly disclosed by businesses. Reports will not only cover GHG accounting metrics but also environmental, social and governance factors, including:
Mitigation and adaptation factors to climate change

The company's main adverse effects and actions taken to prevent these potential negative impacts

Business model and strategy aligning with

UN Sustainable Development Goals

Stakeholder involvement
That being said, environmental matters will be the focal point of the framework and will be aligned with already existing regulations including the EU Taxonomy, climate risk-related reporting in line with TCFD, and the Science-Based Targets Initiative.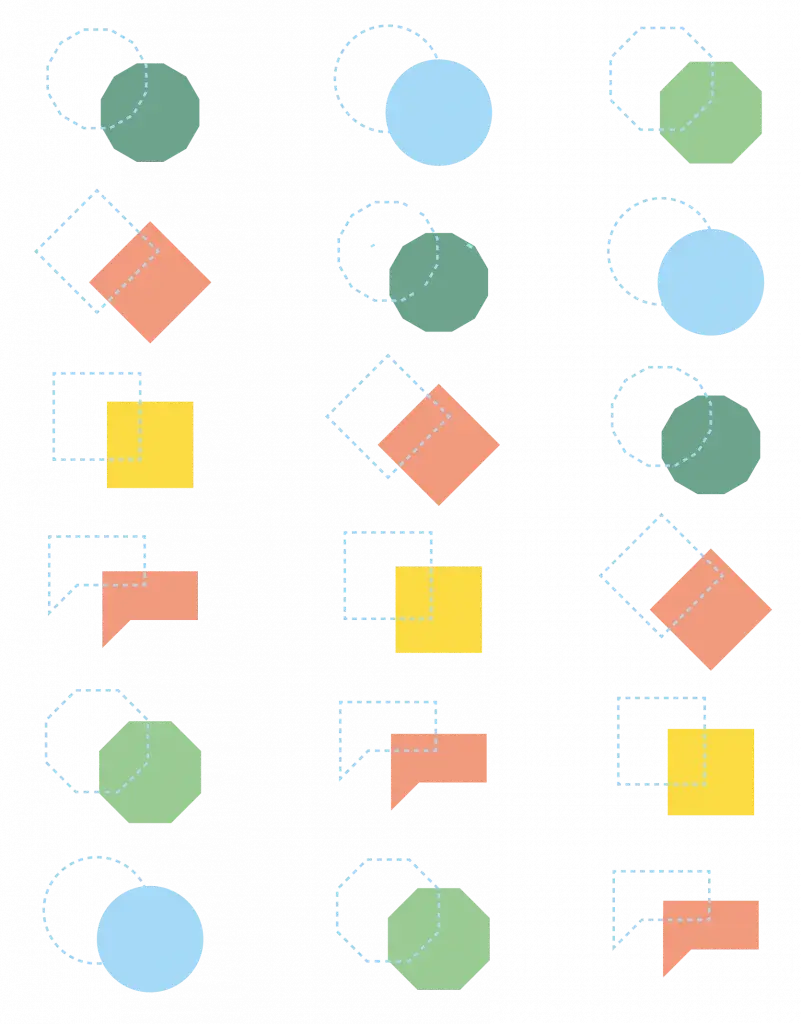 Double materiality
A pivotal addition to the EU CSRD is the concept of "double materiality", that is inside-out impacts as well as outside-in risks. "Double materiality" requires companies to report on both the impact of sustainability on segments on their balance sheet as well as the impact companies have on the environment and society. This unique principle aims to encourage organisations to report on their impact within a business ecosystem, taking a stakeholder-centric view of the company and the impact it has on all stakeholders.
Auditing
For the first time in sustainability-related European legislation, companies will have to be prepared to have their data evaluated by an independent third party auditor in order to comply with the standard. The collection of quantifiable key figures, setting of concrete targets, and progress report on the achievement of these targets represent key challenges of the new reporting obligation. However, this will simultaneously give enhanced credibility and comparability to businesses within the market and entice more investors and stakeholders by showing tangible climate action plans.
Getting ready for mandatory reporting
How we can help
Ecometrica has years of experience helping companies meet their sustainability data reporting obligations with confidence. The new phase of mandatory disclosures in the EU will require the robust, auditable scope 1, 2 and 3 reporting that the Ecometrica Sustainability Software Platform has been providing for over a decade through hundreds of proven implementations. The Platform has extensive capabilities that can help you report your entire value chain emissions, with the results broken down at the level proposed by the EU CSRD, and other material sustainability metrics, as well as TCFD-aligned physical risks. In addition, our expert analysts are on hand to provide assistance throughout the process, including quality assurance and target-setting assistance.
Get in touch for more information on how we can help you get ready for upcoming mandatory requirements in the EU.