TCFD Reporting
Our award-winning TCFD (Task Force for Climate-Related Financial Disclosures) reporting suite is the only software that combines location specific data to analyse climate related risks, and powerful GHG accounting (including scope 1, scope 2 and scope 3) to comply with mandatory TCFD disclosure.
An increasing number of countries and financial institutions are asking for TCFD aligned climate-related financial disclosures in the annual reporting process.
CDP has incorporated the recommendations of TCFD into its disclosure cycle, and investors are asking businesses to disclose their future resilience and sustainability plans, as well as demonstrate their understanding of climate-related financial risks and opportunities by disclosing information using TCFD alignment.
As of April 6th 2022, TCFD reporting became mandatory for UK companies with more than 500 employees. Additionally, the United States Securities and Exchange Commission (U.S. SEC) rule on mandatory climate risk disclosures sets out that reporting practices must be consistent and comparable to meet investor demand for decision-useful information in-line with TCFD recommendations for premium listed companies.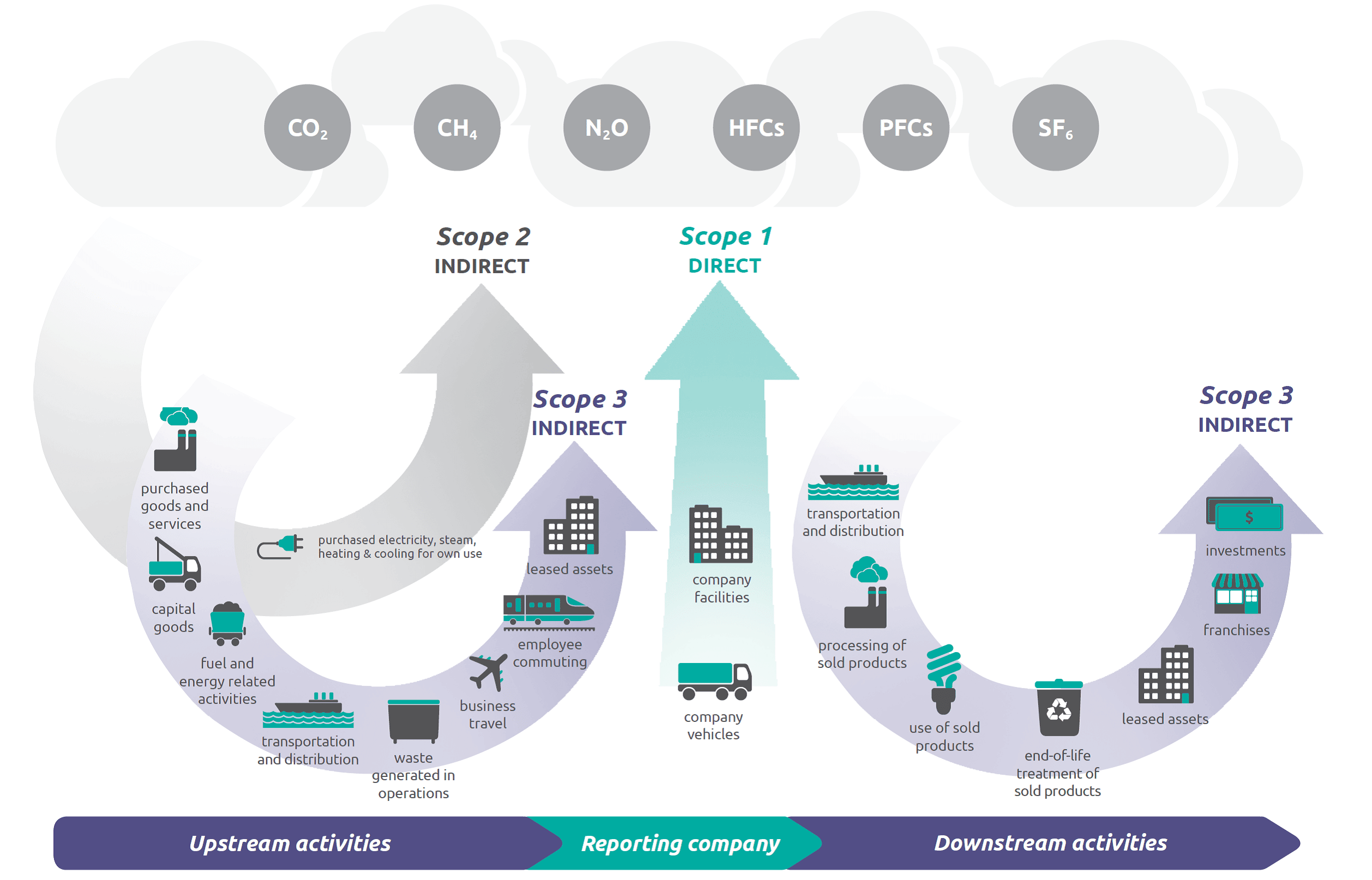 As part of metrics and targets, companies are required to disclose scope 1 and scope 2 emissions disaggregated by greenhouse gas and in total (tonnes of carbon dioxide equivalent), both in absolute terms as well as in intensity per revenue and unit of production. Scope 3 emissions and intensity are required if they are material or if they are part of the registrant's reduction target. Our Sustainability Platform software powered by our emissions database accurately and transparently provides measurements for scope 1, scope 2 and scope 3 emissions to comply with TCFD.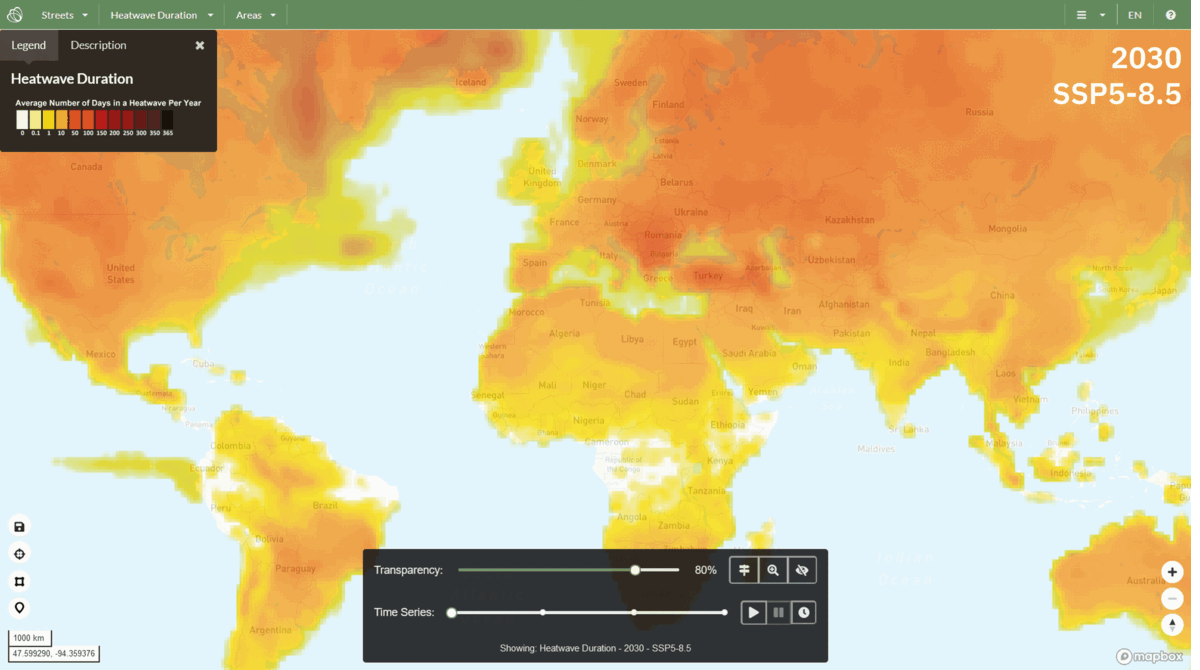 One of the challenges of TCFD reporting is that different industry sectors and geographies have varying physical climate risks. Knowing which risks to focus on and how to manage climate-related risks requires understanding your business, mapping the global footprint of its operations and assessing the impact of different future climate scenarios.
Ecometrica's global TCFD risk assessor software comes pre-loaded with multiple future climate scenarios covering a wide range of temperature outcomes, including Paris-aligned scenarios.
By mapping your business' direct operations and suppliers, you will quickly be able to understand the relevant climate-related risks for each location.
In particular, our tool focuses on physical risk metrics for heat extremes including heatwaves, precipitation extremes/flooding, drought conditions and sea level rise, with additional new indicators in progress. It also makes use of climate vulnerability and readiness scores to assess relevant climate-related risks in the context of current country-level conditions.
Transition risks are those associated with the move to a lower-carbon economy, such as policy and legal, technology, market and reputation risks. Understanding these risks can be a challenge as they can change instantly depending on a government or international agreement, or changes in the market or public opinion.
We use a combination of our expertise and industry leading technology to provide insight on potential transition risks material to your business. By mapping your direct operations and suppliers' greenhouse gas emission data at the asset level, you can assess the potential transitional risk associated.
Scenario analysis is an important component of TCFD reporting – but it can also be a very complex part of the process.
To help simplify things, we translate data from authoritative climate models with projections for Shared Socioeconomic Pathways (SSPs) including Paris-aligned scenarios. With everything together in one place, we can help you understand potential physical impacts across your global operations and how these impacts are expected to change in future decades across a range of best-case to worst-case scenarios.
Our advanced analysis tools manage climate-related risks and can break down the information further, allowing businesses to quickly identify and prioritise their operations or suppliers which are in regions that are anticipating the most dramatic change.
Investors and other stakeholders are interested not just in the risks posed to business from climate change, but also the opportunities. Including both shows that you have not just thought about how to protect your business but also how you can generate growth and profits in the years to come, making your organisation a solid investment.
While corporate sustainability disclosures have traditionally focused on the business impact on the climate, TCFD reporting alignment requires thinking about how the business will adapt to a changing climate.
Reporting in line with TCFD communicates to stakeholders that the company understands the importance of dual materiality when addressing climate change. It shows you understand that you not only have an impact on the climate but also that climate change has the potential to have a material impact on your business.
The key requirements across the four pillars in the TCFD framework include the following:
Governance: Describe the oversight of the board and management on climate-related risks, including the competence and level of expertise brought in by third-party consultants.
Strategy: Include a narrative discussion and analysis on how climate-related risks have affected or are likely to affect the company strategy, financial planning, business model and outlook, including the role of renewable energy certificates and offsets, internal carbon prices and scenario analysis.
Risk management: Break down the material impact of climate-related risks on financial statements over short, medium and long terms, as defined by the registrant. Outline the process for identifying these risks and how they are incorporated into existing risk management frameworks. The risk management disclosure will need to describe if the registrant will adapt, mitigate, or avoid physical risks, and any transition plans.
Metrics and targets: Disclose scope 1 and scope 2 emissions disaggregated by greenhouse gas and in total (tonnes of carbon dioxide equivalent), both in absolute terms and in intensity per revenue and unit of production. Scope 3 emissions and intensity are required if they are material or if they are part of the registrant's reduction target, except for smaller reporting companies which are exempt from scope 3 reporting. The consolidation approach for the organisational boundaries should be consistent with financial statements.
The Ecometrica Platform is the only software solution which can incorporate organisational sustainability reporting, detailed spatial analysis and climate science all in one place. Ecometrica's leading software platform are used in conjunction for the most effective TCFD disclosure possible.
Expert support
Ecometrica's analysts have years of experience in sustainability reporting and spatial analysis, and they are all subject matter experts in their field.
Scenarios
Analyse multiple climate scenarios and pathways at once to gain insights into a broad range of possible futures.
Audit ready
Third party audited, providing the basis for robust transparent reporting to underpin target setting and performance monitoring.
Spatial data
Ecometrica is used by some of the world's leading organisations to understand their supply chain and footprint.
Scrutinise future plans
Weigh-up the varying risks and opportunities associated with different business growth plans.
Integrated platform
A single platform for reporting climate impact and progress against targets and identifying climate risks and opportunities.