GEOSPATIAL CONTENT ANALYSIS ON THE ECOMETRICA PLATFORM
Ecometrica's Mapping modules are being used to create, analyse and share information between corporations, investors, governments and researchers, and are generating advanced models for future scenarios, including risks to people, land, wildlife and business interests.
The Ecometrica Platform enables our clients to:
Make sense of complex geospatial data
Assess risk to populations from natural disasters
Track supply chain sustainability claims and initiatives
Prove the availability of resources for new ventures
Observe and act on how business activities affect forests, water and biodiversity across the globe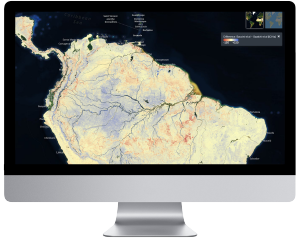 Current Projects and Insights
Seventy years since the first space photo, Ecometrica's EO Labs provides near-real time information using ESA satellite data.
Roll-out means Ecometrica's satellite mapping technology could play part in £100m+ of research bids and projects.
NASA-UK Space Agency project sees Ecometrica spearhead project to monitor forest and climate change.
Cube+ brings big volumes of satellite data within reach of ordinary servers, aimed at growing £600m EO software market.
Data tracked at over
Locations worldwide
Streaming MODIS & NASA Data
Fully Hosted, Expert Support
Ultra-High Resolution to 50cm2
Data Layer Management
Real-Time Reports & Alerts